The Biomimicards: a game to understand innovation inspired by nature
To embrace the powers of nature and understand the need for preserving it, what's better than playing a game?
We designed a playful experience with cards and even a board game, so that people can grasp the super-powers of nature and how it can help solve design problems. Thus, designers, professionals but also students can play together, be inspired by nature for their future endeavors.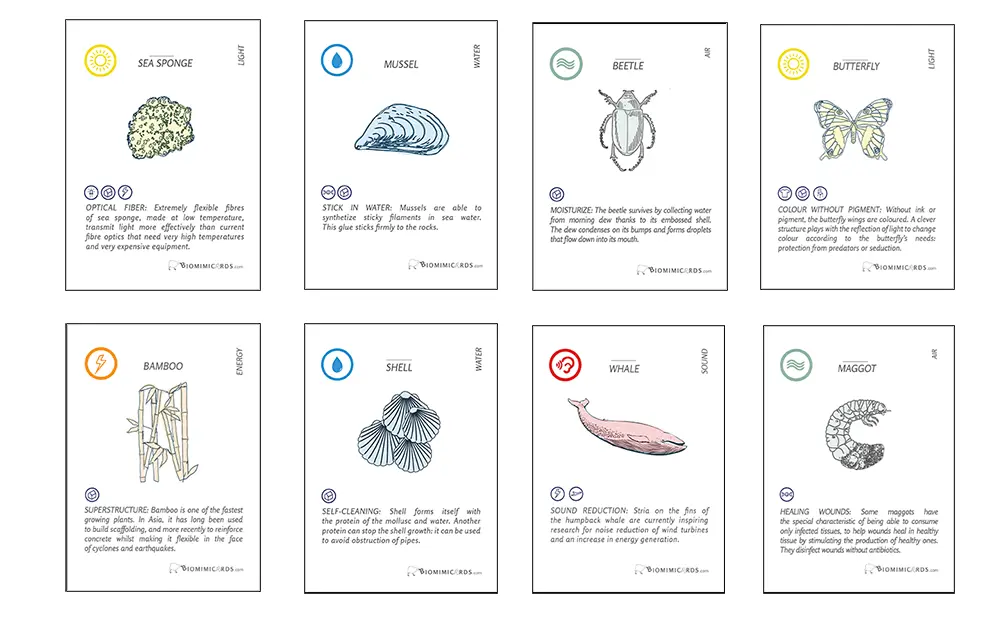 Be inspired for sustainable innovation
Reveal the superpowers of nature
apply nature's principles
The Biomimicards
With the Biomimicards associate nature, business and technology and place humans at the core of this investigation, the game will help you understand biomimicry. Biomimicards are a true idea generator and can lead to sustainable innovations. They provide a new way of designing for businesses while being inspired by Nature.
This game promotes collaboration between participants, encourages innovation and co-construction together in a simple and fun way. The cards are divided into 5 major flows: Air, Energy, Water, Sound and Light. These flows concern multiple fields of application, such as transport, construction, health, etc.
The Biomimicards design with Nature
Among the many events and projects led by Circulab, we have used the Biomimicards to: