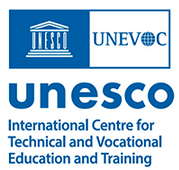 Type of project : Training course
Country: Jordan, Mexico, Chile, Paraguay
Type of organization: Community and government
Line of Business: Public policies
Tools used: Circular Canvas
UNESCO-UNEVOC is the international centre for Technical and Vocational Education and Training of UNESCO. UNESCO-UNEVOC is focused on promoting the quality of TVET by strengthening systems and programmes. It works with TVET organizations globally to promote the acquisition of knowledge and skills for the world of work, and helps youth and adults develop the skills needed for employment, decent work and entrepreneurship while supporting inclusive and sustainable economic growth.
Case study: UNESCO UNEVOC
Context
As part of a project to integrate green and circular economy concepts into educational content for two separate audiences (education personnel, graduates and alumni), UNEVOC asked the Circulab Academy to deliver relevant and inspiring educational content.
Needs
In line with UNESCO's priorities for TVET, UNEVOC sought to strengthen the capacities of TVET personnel on the topic of circular economy to acquire new knowledge and apply principles in their teaching contexts. It also sought to engage new graduates and labour market entrants from TVET track in learning about circular economy approaches. 
Offer
To meet the expectations and needs of UNEVOC and the training centres, the Circulab Academy has carried out research to better understand and analyze the characteristics of each centre in order to provide appropriate and relevant educational content to trainers, graduates and alumni. 
Key points
The training project was carried out as follows:
Analysis of each centres socio-economic-environmental-regulatory contexts and a production of a situation report for each centre and countries.

Creation of blended learning education content for trainers (teachers, education personnel in each centres) and for graduates and alumni.

Delivery of the trainings through recored video (e-learning) and organization of a live webinar for the trainers program

Production of an outcome report providing suggestions to UNESCO / UNEVOC on how to embed Circular Economy into technical and vocational centre curriculum and programs.
Results
More than 50 trainers and 160 graduates and alumni trained in Circular Economy. 
I want to initiate change!
If you too would like to train your organization in the circular economy and explore its opportunities, contact us.