Business Model Canvas Template
Circular Economy business models
Adapting an organization to long-term environmental, social and economic challenges is essential for any business.
Products and services eco-design strategies, waste management, renewable energy transition only scratch the surface of the problem.
Change must be profound and transform the business model of an organization towards Circular Economy principles.
Circular Economy: opportunities for environmental, economic and social performance
Our current linear economy extract and transform raw materials to create products with short lifespans, most of which become waste very quickly.
This linear model is unfit for our current challenges (loss of biodiversity, scarcity of resources, pollution, climate crisis, etc.) and its long term environmental and social impacts are not sustainable.
The academic consensus indicates that the consumption of natural-resources should double by 2060 and that the production of household and industrial waste would increase by 70% over the same period.
This situation cannot last.
The quantities of resources that we extract at all costs are limited and running out. Prices are increasingly volatile and supply is becoming more and more problematic.
In addition, waste volumes are enormous and waste management and recycling have a lot of progress to make. In Europe less than 30% of plastic waste is recycled  and recovery is almost non-existent. It is therefore urgent to rethink our economic model and our way of doing business to take the environment into account and to consider the entire socio-economic system: natural and human capital.
Many business leaders fear that changing, producing and consuming differently will have serious repercussions on the company's economic performance. The Circular Economy gives us the keys to optimize, transform and create sustainable long term environmental, social as well as generating economic profits.
The Circular Economy is not just about putting in place recycling or CSR policies that only postpone the problem. The Circular Economy aims to change the paradigm compared to the linear economy, by limiting the waste of resources and the environmental impact, and by increasing efficiency at all stages of the economy (production, consumption and waste treatment).
For any organization, the integration of the principles of the Circular Economy must be initiated from the design of its business model so that it is circular by design, integrating all the flows and all the impacts throughout the value-chain.
Circular Economy new business models
Optimize

Ask why and how we consume products and services. Use locally available resources and aim at zero extraction of virgin raw materials, an activity responsible for 50% of greenhouse gas emissions and 80% of biodiversity loss.

Mutualize

Promote local economy to improve the resilience of a territory and encourage cooperation to develop know-how and collective intelligence.

Value

Transform waste into resources or alternatively create new income streams by using already circulating materials and resources.

Regenerate

Create positive social, environmental, economic impacts and allow the natural world to thrive. Reconsider the role of economic activities taking into account the physical limits of natural ecosystems.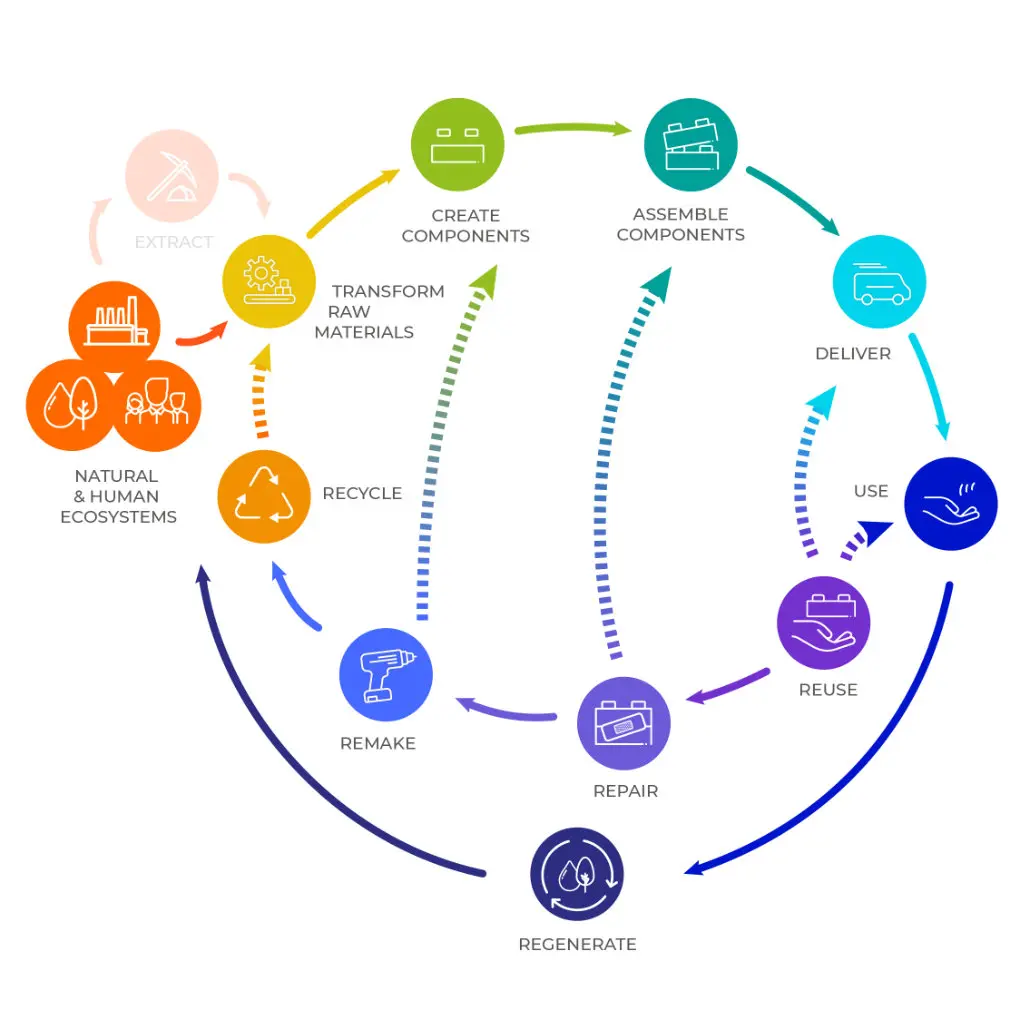 Towards new environmental, social and economic business models
A classic business model describes the principles by which an organization creates, delivers and captures value. The business model brings together all the human, financial or material resources necessary to carry out these processes. Based on this model, the organization defines or readjusts its strategy and operating mode.
In our linear model and with a traditional business model canvas, the value is concentrated on the economic and financial interests of the company. This overly simplistic focus obscures the impacts on society and the environmental footprint.
This is why the Circular Eonomy is inspired by nature and allows us to get out of this linear prism. By changing the mindset, considering all stakeholders, organizations can engage and get ahead of regulations, ISO standards and innovate to gain a strategic advantage over their competitors. A circular business model makes it possible to add to purely economic considerations a holistic vision that takes into account social and environmental aspects to create sustainable, regenerative, shared and systemic value.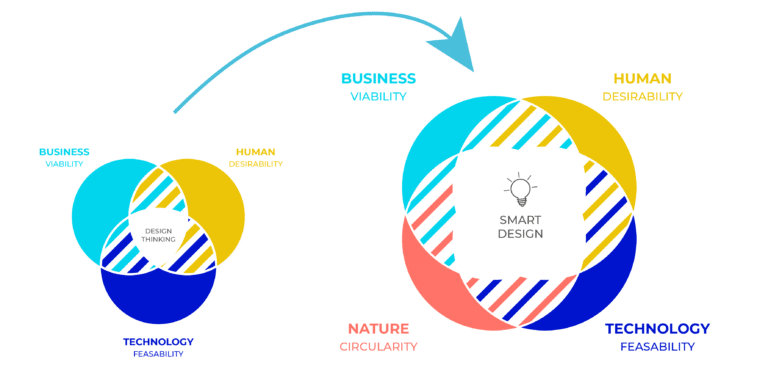 The Circular Canvas: the template for a circular business model
With the Circular Canvas, companies around the world can build a circular, sustainable and regenerative business model thanks to Circular Economy, biomimicry and system thinking. Download the Circular Canvas model for free then fill in the boxes directly to summarize your business model and have an overview of all its impacts.
In 7 questions, you will have a synthetic vision of your organization to really change the model, identify all impacts and detect new opportunities to improve environmental, social and economic performance.
The Circular Canvas allows you to consider all the impacts of your organization to transform them. The tool enables you to design a virtuous, resilient approach to the production, consumption activities and to transform the waste streams, into sources of economic, social and environmental performance for your entire ecosystem.
What is the purpose of your organization?

What human resources are needed?

What natural, technological and energy resources do you need throughout the life cycle?

What are your value propositions?

What are your relations with the distribution and development markets?

How to reduce costs and generate new revenues?

What are your impacts on society and the environment?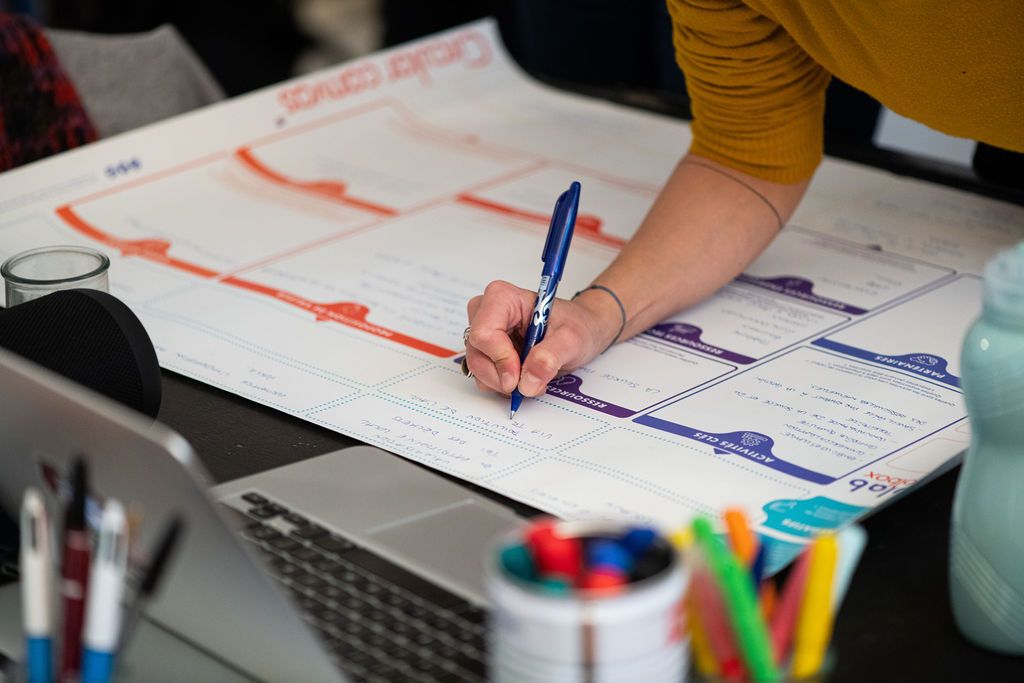 Get trained to reduce your impact on the natural and social environment
Adapting to the new ecological requirements of sustainable development and the economic challenges of a changing world (difficulties in supply, fluctuations in  raw materials prices, repeated natural disasters, energy consumption, etc.) is a major challenge for modern organizations. The Circular Economy is a solution to positively transform businesses to ensure their long-term viability while regenerating ecosystems.
For this it is necessary to fundamentally change our mindset and our way of creating value at each stage of the product life cycle, from its production, its use and its end of life. This change takes place from the design of a product, a service and a company. With a holistic view of your organization, you will identify many opportunities to limit your impact on the environment, become more sober, reduce costs and even generate new partnerships or revenue streams.
At Circulab, we help organizations around the world embrace and apply the principles of the Circular Economy to accelerate the regeneration of ecosystems. The new alternative strategies that we have deployed to transform business models while making them more circular and regenerative are numerous. Giving new life to products with upcycling methods and cradle-to-cradle projects, going further than recycling by transforming waste into resources, reducing food waste, eliminating single use plastic, deploying symbiotic economy for reuse, or collaborative production and consumption to pool use or control the use of energy and resources and thus avoiding waste.
If you are ready to change and to start reducing negative impacts, we invite you to explore our online training courses to dive into the circular economy, build a circular business model and develop your skills by mastering circular design.
Access tried and tested free business design tools
Having set your organization's new circular business model using the Circular Canvas and having developed your skills on Circular Economy, you can discover the other tools of the Circulab Toolbox to deepen your sustainable approach and minimize the environmental impact.
Created in 2014 and now available for free in 7 languages, Circulab's business design tools are used by many companies, communities, agencies, business schools... around the world.
These tools will help you create or transform your organization with a systemic approach. Intuitive and collaborative, learn to explore your ecosystem as a whole, map the impacts of your business model, identify your stakeholders to develop sustainable partnerships, carry out life cycle analyzes and the entire value chain. Finally, these essential tools will allow you to create regenerative projects, products or services that apply and contribute to the Circular Economy.
Discover the circular economy newsletter
Sign up for the Circulab newsletter and like over 10,000 regeneration pioneers, receive our monthly newsletter in your inbox. Discover inspiring projects, news, advice to reduce your environmental impact, optimize your consumption of resources and achieve the circular economy.